"Ride with Pride" and show your support for the University of Maryland School of Pharmacy with a custom School of Pharmacy license plate for Maryland automobile owners.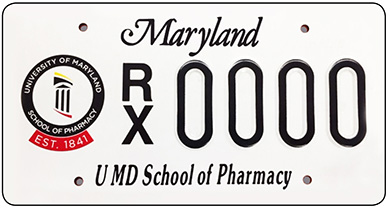 Reserve Your License Plate Today:
Below are the items that you will need to receive your School of Pharmacy license plate:
A $50 check made payable to the University of Maryland School of Pharmacy. Please note that $25 of the $50 fee is a tax deductible donation to the School.
Completed and signed MVA license plate form‌. Please note that the Maryland Motor Vehicle Administration (MVA) requires original signatures on the license plate forms. Also required on this form is your vehicle identification number, insurance information, and sticker number (small sticker on your current plate). Your home address must also appear in the "care of" section of your registration.
NOTE: If your car is leased, your name must appear on your registration, along with the leasing company's name, to enable you to transfer your School of Pharmacy plate to other cars you may own in the future.
Take the Next Step:
Please return the completed signed application form and along with the check to the following address:
University of Maryland School of Pharmacy
Office of Development & Alumni Affairs
20 North Pine Street, Suite S740
Baltimore, MD 21201
Once the form has been received by the Office, the School's authorized representative will sign the form, and submit it along with a check to the MVA for processing. Once the MVA completes their processing you will receive your new School license plate, as well as a replacement registration sticker with the same expiration date as your current sticker.
Once you receive your new School plate and registration sticker, you MUST return your former plate to the MVA by delivering it/them to any MVA office or mailing them to:
Maryland Motor Vehicle Administration
Central Tag Return
6601 Ritchie Highway, NE
Glen Burnie, MD 21062
For More Information:
If you have any questions, please contact the School's Office of Development & Alumni Affairs Office at (410) 706-5893.